The glorious festival of Holi brings with it lots of thrill and excitement. Mumbaikars also experience joyous delight when it comes to the gala Holi celebrations. Be it famous Bollywood personalities or popular socialites, people in Mumbai always become party-crazy during Holi.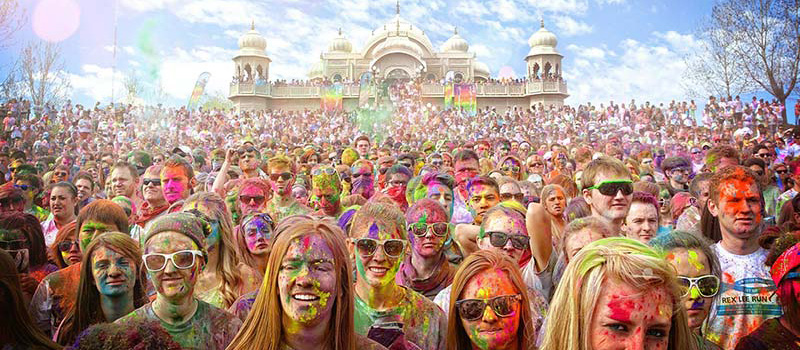 The city that is rumoured of never going to sleep has a life of its own. Raw pulsating energy is quite evident in the way people celebrate Holi. The falgun month of March is awaited with bated breath by the city dwellers to drench in the festive colours of Holi along with their friends, family, loved ones and even rank strangers. One and all are invited, as Holi is a unique festival that highlights the humane nature of compassion, love, unity, and goodwill.
Holi Celebration in Mumbai
The festival conveys a wonderful message of universal love. The splash of beautiful Holi colours wins many hearts. As the Hindi saying goes, 'Bura na Mano Doston Holi hai' that translates into 'Don't mind my friend, it's the time of Holi, so forgive my funny impish pranks on you'. It is the time of the year when people forget their differences and drown each other in the colourful Holi waters. People organize water tanks filled with coloured water and chemical-free natural colours to play Holi. People of all ages come together to play this wondrous festival. For some, it is the playing with colours that attracts them, while others desire to get intoxicated by drinking Bhang.
Youngsters and Children
Youngsters love to take part in traditional Holi events as they celebrate it with their partners and friends. They enjoy music, dance, food, and drinks. They also dump each other in water tanks and spray colours with water guns. Faces turn blue, black, red and orange with smeared organic colours. Children turn into little demons on the auspicious Holi day. They throw water balloons at everyone. Armed with smiles and laughter, kids hit people with special Holi water missiles to get them drenched from head to toe.
Holika Dahan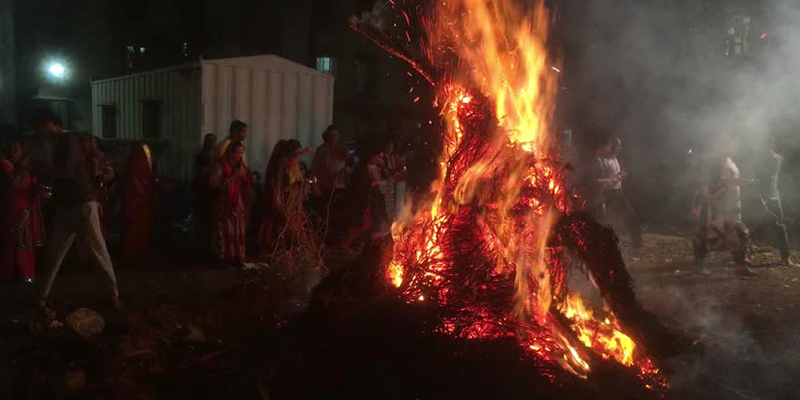 Before the festival of 'Rang Panchami' or Holi, there is a tradition of 'Holika Dahan' that happens on the previous night. Mumbaikars burn wood pieces and dung-cakes to create a Holi pyre that signifies the victory of good over evil. In Indian history, it was the night when God burned the demoness called Holika. Women pray before the symbolic fire and perform pooja.
It's a Cool Ritual for Modern Mumbaiites
The coolest parties and the most fun-filled Holi celebrations happen in the financial capital of India. Mumbaiites unwind and make the most out of the customary Holi celebrations with organic colours and pre-planned green Holi-centric parties.
Five Famous Mumbai Holi Grounds
Whether you have been invited to a happening resort or beachside party or some traditional festive gathering, the fun-factor is always high when you take part in a Holi festival in Mumbai.
Let us explore five best places for Holi celebration 2022:
There is the famed Dahanu Chiku Farm ground located at Dahanu, if you want to revel in music and live DJ performances alongside the festive mood.
Paint yourself in herbal colours at Kalamb Beach, Nala Sopara and enjoy feisty Holi party from sunrise to sunset.
You cannot ignore the popular Holi destination Gorai Beach at Borivali if you wish for a dazzling pool party and unlimited masti time with friends.
Krida Prabodhini Ground at Goregaon link road is also a famous haunt with live DJ events and Bollywood celebrities.
Visit the Marine Drive Holi festival in South Mumbai that includes flea markets, games, and safe Holi colours.
Have a safe, enjoyable, and vibrant Holi at some of the most impressive Holi events in Mumbai, festive celebration zones or happy get-together parties this 2022.