The energetic people of Goa do not lag behind the rest of the country when it comes to Holi celebrations. The festival of spring is called Shigmo in Goa. The festival is celebrated mostly by the masses following all religious traditions. As expected from the Goans, the festival is accompanied with fanfare. Performance on drumbeats and epic enactment of mythology are religiously followed. Vivid and vibrant colours of gulal and neel are abundantly used. Shigmotav is highlighted with performances of troupes in the form of parades and cultural dramas. At dusk, huge effigies are taken in processions and prizes given away.
The Panaji Shigmotsav Samiti also organizes a parade in Panaji. Besides, numerous temple around Goa also make special arrangements for Holi celebrations. Of interest is the celebrations at Panaji, Mapusa, Vasco Da Gama and Margao.
Holi, the traditional Indian festival of colours is celebrated with great jubilation in the State of Goa. Tourists who visit Goa during the Holi festival period can feast their eyes on the rain of colours. The wondrous festival of Holi is enjoyed by the local people and tourists alike.
Holi festival in Goa is celebrated in the month of March, after the full moon day. Indians play Holi, welcoming the spring season and to bid adieu to the cold winter. The lively festivity indicates the change in the weather with the transformation of barren lands into lush greens. It also signifies that man can only live happily in coexistence with nature.
The Significance of Holi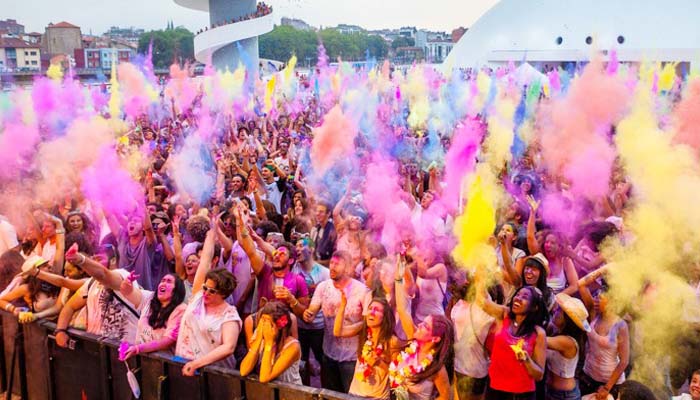 Holi brings with it a new freshness, happiness, prosperity, and abundance. Goans love to celebrate Holi according to the traditions. While youngsters add modern essence to the rigid old customs, kids simply enjoy playing in coloured waters and smearing one another with organic colours.
On the full moon night, people light bonfires with dried leaves, twigs and wood. This fire is also known as the 'burning of Holika'. The Holi fire signifies the joyous victory of light over darkness (good over evil). Holi celebration in Goa has always been spectacular.
Holi – The Allure of Colours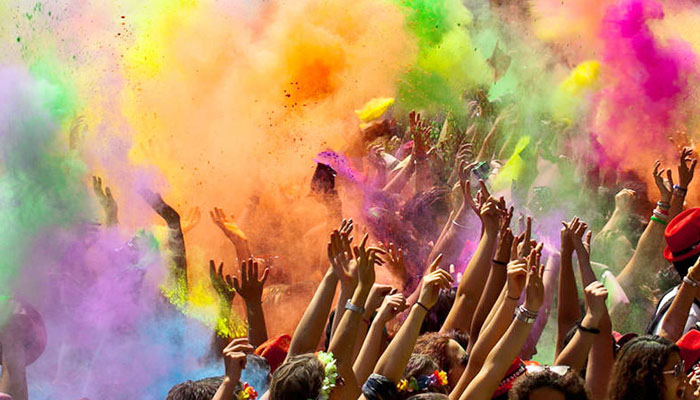 People of Goa, irrespective of their age and even religion, step outdoors and mingle with others to celebrate Holi. They playfully apply colourful powders on the faces of their friends and loved ones. People sway to popular music and dance with abandon. Most of the teenagers are busy drenching one another with water and dancing to the tune of popular Hindi and English songs.
Children use water balloons and 'pichkaris' (water guns) to target other kids and douse them wet. Some also play with dry washable colours and dyes. Holi celebrations in Goa starts in the morning and slowly recede late in the afternoon when people are tired after enjoying all day.
Goa has a sizeable Christian population. Nevertheless, Holi is still considered a very popular festival. Dhakto Shigmo or Holika Dahan is performed the previous night. Holi is also fondly referred to as Shigmo in Goa. In this vibrant city, you can find a beautiful blend of foreigners and locals joining in the Holi revelry.
Parades and Feasts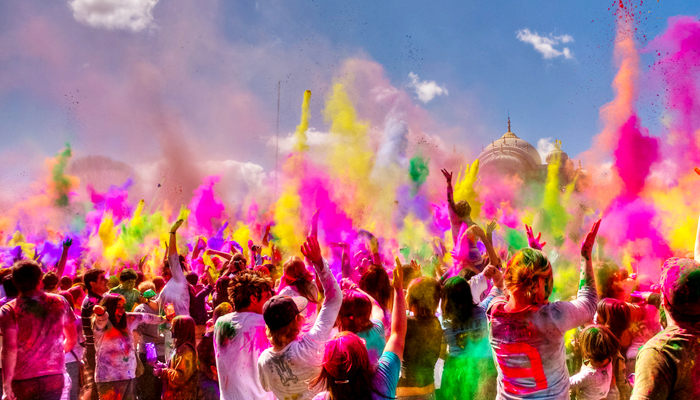 Many Holi enthusiasts bring dholaks (drums), guitars, and flutes to play fine music. Holi events in Goa include live DJ and musical band performances. Grand parades are organised, such as in Colva and Panaji Cities, adding to the fun.
Holi feasts are held on the Rangwali Holi day. People get together and arrange a grand feast during the festival day or after the celebrations are over at night. The traditional 'Thandai' or 'Bhang' is also served along with sweets, fried foods, beverages, and soft drinks. People get invited to Holi parties that are held in swanky retreats, building premises or even at the beach side resorts to play Holi.
If you are visiting the popular tourist-destination State of Goa this March, make sure you are invited to the coolest Holi party and enjoy with your friends and loved ones.