Delhi, the stately!
We all know Delhi as the capital of India. It's New Delhi, to be certain. It is the cultural tradition of India. It is the unparalleled city of India which has stood the test of time, to historic battles, convulsions, and formations and so on. It is the place of Rashtrapati Bhavan, the Presidents house. It houses the 7, Lok Kalyan Marg, the residence of the Indian Prime Minister. It is the place of intriguing relics like Purana Qila, National Museum, Jama Masjid, Chandni Chowk, Qutab Minar, Swaminarayan Akshardham Temple, Lodhi Gardens, Red Fort, Humayun's Tomb and so on.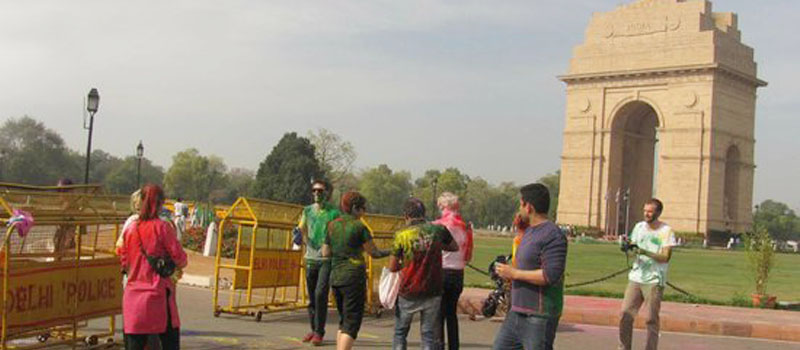 The state houses the Indian Army Headquarters. Every year, it celebrates the Republic Day on the 26th of January and the Independence day on the 15thof August in the most monumental way.
Therefore Delhi indeed is stately.
The Boisterous Delhi, Its Other Side!
Delhi is expansive both in terms of geography as well as culture. It is far from being only a conventional state of history and achievements. Delhi is a brew of historical interests, an amalgamation of traditions, a myriad of flavours arising from tiny pockets of the city. It is boisterous in terms of people, colours and events. Many call it as Dilli, a city of heart.
An informal Delhi can be better understood with its Holi celebrations.
Delhi And The Festival Of Joy And Mirth, Holi!
The moment you think of Holi, you start to grin right? Of course! It is the festival of colours, mirth, unification, dance and smacking foods like Gujiya, Masala Mathri, Samosa, Puran Poli, Thandai, Chaats like Papri Chaat and Dahi Vallah. The list is endless!
But how do people of Delhi celebrate Holi? How is Holi in Delhi different from Holi in Mumbai or Goa or Udaipur or Kolkata or abroad?
Let us learn about the special Holi in Delhi.
Holi celebrations in Delhi often begins with a 'Tilak'. A Tilak is a traditional mark of colour drawn on a person's forehead. To some it is a symbol of honour, to some it represents confidence. Some wear it as a custom. Some believe it to be a good omen.
People also greet one another with garlands before commencing Holi. Delhiites (people who live in Delhi) celebrate holy with endless music. Delhi is perceived to have a musical Holi.
7 Holi Parties In Delhi You Can't Do Without!
The exceptional thing about Delhi's Holi is its loud music and ebullient ambience. Even if you aren't in a mood for colours and celebrations, Delhiites will surely sweep you off your feet.
Below listed are the 7 extraordinary Holi parties in Delhi!
Unite Holi Music Festival
It takes place in the Jawaharlal Nehru Stadium, New Delhi. The stadium thrives with a population between 5000-6000. You can expect great music that will continue for hours. There is an abundance of colours and fun in this Holi party.
The Rang Leela
Conducted at The Friends Republic Cafe, Gurugram, The Rang Leela Holi party is a favourite to the Holi connoisseur. There is Bhangra dance, rain dance, authentic Indian Holi dishes to enliven your taste buds.
Holi Madness Season 2
As the title itself says, its all about Holi craziness. A celebrated event of 2019, Holi Madness Season 2 achieved great success. There was Punjabi music along with dhol and Chandra. It would have definitely brought out the Daler Mehendi, Gurdas Maan or Sukhwinder Singh in you! The event saw the presence of popular Punjabi singer Ammy Virk along with celebrity Dj Yogi.
Holi India Colour Festival
The address reads Golden Triangle Tourist Circuit, New Delhi. This is the place where The Holi India Colour Festival is celebrated. The striking thing about this event is that it has reached international heights. This event is booming. It is celebrated in Europe and North America too.
Holiyappa, 2022!
The event took place on the 18th of March, 2022. It was organised in The Junction, Green Park Delhi. The event promoted to offer lovely music to the audience so that they could dance and enjoy. It presented some famous DJs like Dj Dheer and DjTanuj.Its theme was 'Music, colours and good vibes'.
Holi Sangria, 2022!
Another upcoming event of 2022, Holi Sangria is extravagant celebrations. According to sources, it will be hosted in TheGameForest club, Archview Drive, Sector- 58, Gurugram. You can expect amazing fun here. There will be vibrant colours along with the music.
An Underground Movement With Respect To Holi? Holi Moo Festival!
A decade long event, The Holi Moo Festival is something you can't miss! The makers of this event have named it specially. They call it an underground movement. It conglomerates like-minded people. It brings in like-minded musicians, connoisseurs, artists and other people under one roof. There are herbal colours, yummy foods and many stages. Your Holi experience will get magnified with Holi Moo Festival.
Sumptuous Holi Foods From The City Of Delhi!
Let's read about some of the most popular Holi foods in Delhi
Thandai-
An irresistible Holi drink, the Thandai is never out of demand during Holi.
You can assume from the name if you have never tasted it, that it is a cold drink. But wait! It isn't a regular soft drink like Pepsi or Coca-Cola. A Thandai is a special drink prepared with pure water, sugar, almonds, saffron poppy seeds and more. It has malai or milk fat in it. It tastes heavenly. It is a sweet drink that is cold. People who drink glasses if thadai enter a state of euphoria or exhilaration. They are often seen, emitting intoxicating behaviours.
Gujiya
A Gujiya is a sweet dumpling. It has a filling of khoya and dry fruits. It is deep fried. A Gujiya is a must edible when you think of Holi in Delhi. In Delhi, it is a common sight where happy faces smeared with vibrant colours gorge on gujiyas during Holi.
Laddoo!
'There's no Laddoo!' Don't you feel like falling from the sky the moment you hear someone saying this? A Holi event without a Laddoo is unacceptable. A Laddoo is a famous Indian sweet. It is very popular during festivals like Holi, Diwali, and so on.
It is because Delhi is a concoction of different cultures and customs, it has a host of foods belonging to different parts of India. Laddoo is a famous sweet during Holi in Delhi. Holi and Delhi are inseparable. Endless people in Delhi get engrossed in the Holi celebrations, forgetting all the sorrows of life.
Delhi being the capital and the heart of India, celebrates Holi with extreme enthusiasm.
Being a metro city, an amalgamation of cultures and traditions can be witnessed here. Virtually all aspects of Holi as seen in various states are noticeable in the numerous pockets of Delhi.
People move out in tolis and apply colour on each other till they become unrecognizable. Play with colors peaks up in the residential colonies as people usually do not go out with families beyond their neighborhood. Even public conveyances do no ply with usual frequency.
Feasts, music, dancing and blasting parties are held all over the city to mark the festival of colours. People hug and greet each other by applying abeer as tilak. Any feeling of hardship or animosity is forgotten on the day. Is is said that even the enemies become friend on Holi.
On the eve of Holi, bonfires or Holika are lit in the important centres of the city where people celebrate the victory of good over evil. Wood for burning Holika is collected weeks before the festival.
Being a political hub of the country, Delhi sees huge enthusiasm even among the politicians. Holi is also celebrated at the Presidents and Prime Minister residences where people gather to play Holi. Cultural events and lots of fun mark the day.